Editor's Note: On the weekend from March 19-20, 2022, the 7th Chinese Research Hospital Association Thyroid Disease Summit and the 3rd Symposium on Endoscopic Thyroid Surgery of Shangdu Medical Forum of Henan Provincial Health Science and Technology Society were successfully held online. Participants in the summit not only shared new developments in the thyroid disease but also gained an in-depth understanding of the standardized treatment of thyroid cancer. Professor Hui Sun, who is currently the Director of the Department of Thyroid Surgery, China-Japan Friendship Hospital of Jilin University and the Director of the Department of Surgery at Jilin University Sino-Japanese Friendship Hospital, gave two keynote lectures entitled "Value of Dynamic Monitoring of Calcitonin and Carcinoembryonic Antigen in the Diagnosis and Treatment of Medullary Thyroid Cancer" and "Application and Scientific Innovation of Intraoperative Nerve Monitoring during Thyroid Surgery" respectively. She was interviewed by the editorial office of Annals of Thyroid, AME Publishing Company after the meeting.
AOT: The 7th Chinese Research Hospital Association Thyroid Disease Summit was successfully held on March 19 - 20, 2022. Can you share with us some of the recent advances in the treatment of thyroid diseases in China and abroad?
Prof. Sun: I believe that all the peers who attended this meeting would have a strong feeling that the diagnosis and treatment of thyroid diseases are ushering in a new era of "precise diagnosis, tailored treatment, and massive solutions"! First of all, as conventional diagnostic methods can no longer meet the urgent demand for precise diagnosis, a variety of more accurate auxiliary diagnostic tools have been available, including the artificial intelligence (AI) ultrasound system for assisting ultrasound interpretation, the molecular tests that is applied in combination with needle biopsy as well as the detection of fusion genes and non-coding RNAs such as lnc RNA and circle RNA. Meanwhile, calcitonin and CEA tests for patients with medullary carcinoma, 3D imaging for patients with advanced thyroid cancer, and autofluorescence tests for patients with hyperparathyroidism have emerged successively, allowing the individualized diagnosis of thyroid and parathyroid diseases. More tailored treatment options have been available, such as radiofrequency ablation, lumpectomy/robotic surgery with different accesses such as the transoral access, chemotherapy and immunotherapy for iodine-refractory undifferentiated advanced medullary carcinoma, and suitable TSH suppression therapy. In terms of functional protection, safe use of energy devices, expanded application of neuromonitoring, and near infrared fluorescence imaging for locating parathyroid glands are the hot topics in this field.
AOT: 2022 was the year we witnessed the holding of the 7th China Neuromonitoring Workshop. What made it different from previous ones?
Prof. Sun: We had successfully held six advanced workshops on neuromonitoring in the past 13 years, and we had long expected a new reunion this year in Zhengzhou in central China. However, the COVID-19 pandemic has disrupted most aspects of our work and life, hitting many cities including Zhengzhou. The first difference was that the meeting was held online instead, which of course had many advantages. It met the requirements of epidemic prevention and control, and avoided the gathering and movement of people, which also helped reduce the expenditure of the meeting. The meeting got about 50,000 views, and thus benefiting more audience. The online meeting has a playback function, which provides a convenient way for follow-up training and learning. The second difference is that the course schedule and teaching content are quite different from before. As the first study group established by the Professional Committee on Thyroid Diseases of Chinese Research Hospital Association (CRHA), the Chinese Neural Monitoring Study Group (CNMSG) was established in early 2016. The past six years have seen the continuous changes in the neuromonitoring technology and the increasing knowledge level of our trainees, and our curriculum arrangements have been updated and tailored from time to time to meet the needs of doctors with different capabilities from hospitals at different levels. This year we divided the main courses into three parts: In the first session, we invited experts from Shandong Province who had made outstanding contributions in promoting the application of neuromonitoring technology in recent years to share their experience. This session was particularly helpful for physicians who are a beginner in neuromonitoring or even have not been engaged in this technology as it could help them quickly understand the advantages of neuromonitoring and learn its basic operations. The second session focused on the advanced theories of neuromonitoring. Lectures were given by a group of senior experts in China and abroad, including Professor Gianlorenzo Dionigi, member of the presidium of the International Neural Monitoring Study Group. The target audience was doctors who have applied neuromonitoring technology for many years and have unique insights into the technology. It was hoped that the interpretation of the latest research hotspots in China and abroad would provide them with inspiration and theoretical support. The third session offered the simulation-based training on intraoperative neuromonitoring (IONM), which was also a featured link in our workshop. Although the simulated operation could not be done on-site due to COVID-19 this year, three lectures explained the basic theories, troubleshooting, and advanced applications of IONM in a Q & A manner with questions given one after another. The use of videos also helped the trainees to learn practical, precise, and comprehensive solutions to real-world problems in a more intuitive and vivid way.
AOT: What's the role of intraoperative neuromonitoring (IONM) in thyroid surgery? And what is its biggest advantage?
Prof. Sun: The laryngeal nerve protection during thyroid surgery has long been a hotspot for surgeons, including the early attempts such as the regional protection method proposed by Billroth, the thyroid gland protection method proposed by Kocher, and the anatomical exposure method proposed by Lahey. All these methods were valuable and did lower the injury rate of the recurrent laryngeal nerve (RLN). Nevertheless, neuroprotection during thyroid surgery is far from satisfactory. Neuroprotective methods under the guidance of empirical medicine can no longer cope with the increasing cases and the increasingly complex thyroid surgery. The emergence of intraoperative neurophysiological monitoring, or IONM, has brought neuroprotection into the electrophysiological era. Therefore, IONM is a badly needed auxiliary technology in thyroid surgery. With the wider application of IONM in clinical settings, its use is no longer limited to the detection of nerve lesion. Clinicians in most tertiary hospitals have been able to skillfully identify different Electromyographic (EMG) signal waveforms and interpret key parameters such as amplitude and latency. IONM not only can accurately locate the RLN and assist its precise dissection but also plays key roles in analyzing the mechanism of nerve injury, offering early warning on nerve injury, guiding the recovery after nerve injury, and predicting. In addition, based on the principle of nerve electrophysiology, IONM has also been routinely used in the intraoperative monitoring of other motor nerves (such as phrenic and accessory phrenic nerves) in the neck. In conclusion, IONM has the following five main advantages in neuroprotection during thyroid surgery: a) facilitates the identification and locating of RLN; b) facilitates the determination of the functional integrity of RLN; c) assists in analyzing the mechanism of RLN injury; d) helps identify rare variants of RLN; and e) assists in the protection of other motor nerves in the neck.
AOT: You and your team have rich experience in the application of IONM in complex thyroid surgeries. Can you share the major difficulties and challenges you have experienced? How did you address these problems?
Prof. Sun: Clinically, we have encountered many complex cases when performing thyroid surgeries, including loss of anatomical layers in the thyroid area after multiple operations, tumor invasion of LRN, and giant posterior mediastinal goiter causing displacement. These surgeries are highly challenging. In particular, the anatomical variation of LRN or its encirclement by the tumor greatly increases the risk of LRN injury. Therefore, our center has conducted many clinical studies in this area with the help of IONM, which has enabled us to gradually address these problems. We can say that the use of IONM notably lowers the difficulty of complex thyroid surgery, so that we can manage such cases more confidently. I would like to share some specific cases and their solutions.
Monitoring catheters: The surface electrodes of the tracheal catheter are used as a recording device for EMG signals during IOMN. Whether the electrodes are correctly placed and closely attached to the vocal cord directly affects the monitoring effectiveness. However, some anesthesiologists may lack knowledge or experience in IONM, and problems such as improper intubation depth or catheter deflection often occur, resulting in poor or even no EMG signal. To solve this problem, our team summarized the common causes of IONM failure and developed a series of solutions such as the double-channel method and the use of thyroid cartilage needle electrodes, which ensure that ideal EMG signals are obtained in all surgeries.
Injuries not visible to the naked eye during thyroid surgery: These injuries are hidden. A typical example is the nerve injury caused by the retraction of the Berry's ligament. These strain injuries are characterized by a progressive decline in nerve function as the strain continues, and repeated strains can cause more severe trauma to the nerve, even the permanent loss of nerve function, severely affecting postoperative vocal cord motion. The IONM systems are theoretically effective in preventing such strain injuries. While the routine intermittent monitoring mode has large monitoring time-blindness, continuous neuromonitoring is more effective in preventing such injuries. However, the continuous nerve monitoring technique requires the use of additional vagus nerve stimulation electrodes, along with the dissociation of the carotid sheath and the separation of the vagus nerve trunk, which are difficult to perform and may also cause injuries. Therefore, we improved the monitoring step by using a probe to continuously stimulate the nerve with a current of 2.0-3.0 mA at the proximal end of RLN or the trunk of vagus nerve during the gland retraction. In addition, we continuously monitor the EMG signals during the operation to achieve the effect of temporary continuous monitoring, which can effectively prevent the occurrence of retraction injury.
Nerve branching variations: We have promoted the standardized operation concepts such as "standardized four-step method", "crossover method", and "A/B point detection of vagus nerve" to minimize the nerve injury caused by nerve branching variations.
Decline or even disappearance of EMG signals: Based on animal experiments and clinical practice, the following solution has been applied in our center: using a 50% decrease in baseline amplitude as the event threshold, neural monitoring is conducted at any time during the operation, and the operation will be suspended timely if there is an alarm indicating a risky operation. The suspension will last at least 10 minutes for neurological recovery, and glucocorticoids will be given if necessary. Several articles have also been published.
EMG signals: Our research has also confirmed the potential roles of different EMG signals. In addition to the commonly used amplitude and latency, the area under the curve is also a very promising signal parameter for reflecting neurological function. We have kept close communication with the industry and hopefully these parameters will be further tested in newly-developed neuromonitoring devices.
AOT: How can we continue to promote the standardization of IONM in thyroid surgery so that more patients can benefit from it?
Prof. Sun: Over the past decade, the standardization of IONM has brought definite benefits to clinicians and patients. As an effective aid in thyroid and parathyroid surgeries, IONM has significantly shortened the learning curves for complex procedures. In addition, it has improved surgeons' surgical skills by analyzing the mechanisms of different nerve injuries and avoiding intraoperative risks. And third, it facilitates the intraoperative surgical decision-making and the prediction of postoperative voice conditions, which helps to reduce medical disputes. Training is a top priority in promoting the standardized application of IONM. The Chinese Study Group of Intraoperative Neuromonitoring, with its 25 training bases across China, has held more than 100 training programs of various scales to promote IONM. From basic training on equipment use for beginners to advanced training for more diverse populations, from theoretical lectures to clinical practice, and from study design to demonstrations in animal models, our training courses basically covered the cutting-edge knowledge in this field. The concept of standardized training and scientific application has been deeply rooted in the medical community. At present, IONM has been adopted in over 480 hospitals in 34 provinces, municipalities, and autonomous regions across China. As China has entered its 14th Five-Year Plan period (2021 - 2025), IONM will face new opportunities and challenges with the availability of new policies on health care and with the deepened reform of the health system. First, based on the success stories in the past six years, the study group should continue to carry out standardized training on IONM and hopefully one day IONM can become a routine technology in thyroid and parathyroid surgeries in most hospitals. Second, we should develop more reliable, convenient, and affordable neuromonitoring devices to reduce costs. Third, in the coming five years, more high-quality medical resources will rapidly become available in China, with more balanced distribution across different regions. In addition, the graded diagnosis and treatment system will be gradually established. Accordingly, capacity-building should be enhanced for medical staff in grassroots hospitals, including the training on the standardized application of IONM. Medical staff should be able to identify the early warning of nerve injury from IONM and increase their capability in protecting RLN during thyroid surgeries. "Zero" RLN injury is one of our goals. With the joint efforts of the study group and the IONM training bases across China, IONM will receive more recognition and attention, and thus benefiting more patients and surgeons. For IONM, the concept of standardized application and scientific development will be passed down across generations of thyroid surgeons and promotes its sustainable development!
AOT: What would be your outlook on the diagnosis and treatment of thyroid disease?
Prof. Sun: As we enter the era of precision medicine, there will be many new hot issues in the diagnosis and treatment of thyroid diseases, including 1) active monitoring of low-risk thyroid cancer, 2) more aggressive treatment strategies for high-risk thyroid cancer, 3)more intelligent image-based systems for accurate determination and even prediction of thyroid disease, 4) the combinations of fine needle aspiration (FNA) with known molecular markers, or with novel molecular markers and mutations to address the current shortcomings in diagnosis, pathological typing, and prognosis of thyroid disease, 5) application of targeted drugs and other non-surgical treatments for patients with iodine-refractory undifferentiated advanced medullary carcinoma, 6) development and improvement of new equipment, and 7) more precise and individualized recurrence risk stratification tools and intelligent post-operative follow-up system. These hot research topics, which are also the urgent needs of doctors and patients, may represent the future research directions in the diagnosis and treatment of thyroid diseases.
Expert introduction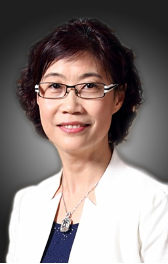 Figure 1. Photo of Prof. Hui Sun.

Hui Sun (figure 1), MD, professor, chief physician, and doctoral supervisor, is currently the Director of the Department of Thyroid Surgery, China-Japan Friendship Hospital of Jilin University and the Director of the Department of Surgery at Jilin University Sino-Japanese Friendship Hospital.

She also serves as the Vice Chairman of the Chinese Thyroid Association, Vice Chairman of the Professional Committee on Thyroid Cancer of China Anti-Cancer Association, Vice Chairman of the Professional Committee on Thyroid Diseases of Chinese Research Hospital Association, Chairman of the Professional Committee on Thyroid Diseases of Chinese Research Hospital Association, Director of the Thyroid Specialist Training Base of the Chinese Medical Doctors Association, member of the Endocrine & Metabolism Study Group of the Chinese Society of Surgery, member of the Thyroid Group of the Chinese Society of Endocrine, member of the Head and Neck Tumor Specialty Committee of the China Anti-Cancer Association, and Chairman of the Thyroid Disease Specialty Committee of the Jilin Provincial Medical Doctors Association. She is also the member of the editorial boards of top journals including Chinese Journal of Endocrine Surgery, Chinese Journal of Practical Surgery, Chinese Journal of Control of Endemic Diseases, Chinese Journal of Bases and Clinics in General Surgery, Chinese Journal of General Surgery, Chinese Journal of Breast Diseases, and Chinese Journal of Laboratory Diagnosis. She has been granted two national patents. She has published over 100 articles in peer-reviewed journals, and her other achievements included six Jilin Province Scientific and Technological Progress Prize (grades 1, 2, and 3), seven medical awards (grades 1, 2, and 3) granted by Jilin University, and more than 20 provincial and ministerial-level scientific research projects. Her honorary titles include 2018 Government Special Allowance Expert, the ninth "Chinese Physician Award" (by the Chinese Medical Doctors Association), the National Advanced Worker, the National March 8 Red-banner Pace-setter, the first-level candidate of Jilin Province's Top Innovative Talents, Jilin Province's Top-lier Model Worker, Jilin Province "Hundred Excellent Science and Technology Workers", Pioneer of Teacher Virtue of Jilin University, and the third "Henry Norman Bethune Famous Doctor Award" of Jilin University.
Acknowledgments
Funding: None.
Footnote
Provenance and Peer Review: This article was commissioned by the editorial office, Annals of Thyroid for the series "Meet the Professor". The article did not undergo external peer review.
Conflicts of Interest: All authors have completed the ICMJE uniform disclosure form. The series "Meet the Professor" was commissioned by the editorial office without any funding or sponsorship. RL reports that she was an intern editor of AME Publishing Company from February 17, 2022 to April 17, 2022. GL reports that she is a full employee of AME Publishing Company. HS declares no conflicts of interest.
Open Access Statement: This is an Open Access article distributed in accordance with the Creative Commons Attribution-NonCommercial-NoDerivs 4.0 International License (CC BY-NC-ND 4.0), which permits the noncommercial replication and distribution of the article with the strict proviso that no changes or edits are made and the original work is properly cited (including links to both the formal publication through the relevant DOI and the license). See: https://creativecommons.org/licenses/by-nc-nd/4.0/.